the following material was pulled directly from NTEU.org
NTEU Endorses Joe Biden for President
NTEU is endorsing Joe Biden for President of the United States.
The stakes in this election are incredibly high for NTEU and our members. As federal employees, you know that the President has a great deal of influence, if not outright control, over policy that affects the day-to-day lives of you and your families.
In this featured video, you can hear directly from National President Tony Reardon about why Joe Biden is the clear choice for NTEU and federal employees.https://www.youtube.com/embed/WRVHip20Naw
NTEU evaluates each candidate for President and Congress based solely on their positions on, and support for, federal employee issues like pay, benefits, funding and workplace rights. And on these issues, the difference between the two candidates is stark.
Joe Biden has a long history of standing with NTEU, both as Vice President and in the Senate. He has fought with us to ensure that federal workers are treated with dignity and respect and that the federal government provides competitive pay and benefits. He has committed to repealing the anti-federal employee Executive Orders on day one of his presidency and to work with us to repair the relationship between labor and management so that federal workers voices are heard when decisions are made about their work lives.
"The federal government should serve as a role model for employers to treat their workers fairly. As President, I will value the contributions of federal employees and make sure they are protected and rewarded for their hard work. I won't be able to do my job without them."
– Former Vice President Joe Biden, NTEU Questionnaire
In contrast, President Trump has actively worked against federal employees and NTEU by trying to limit your rights, impose deep cuts on agency budgets, institute pay freezes and weaken federal benefits. This administration continues to attack collective bargaining rights and wants to hollow out NTEU contracts and make it harder for us to represent you.
Your vote matters in this election. NTEU has the information you need to assess how Vice President Biden and President Trump approach federal employees and the federal workplace.
"Throughout his career, Joe Biden has been an advocate of fair pay and benefits and giving frontline employees a meaningful voice in the federal workplace," said National President Tony Reardon. "Joe Biden is exactly who federal employees need in the White House."
---
NTEU Endorsement of 2020: Majority Leader Steny Hoyer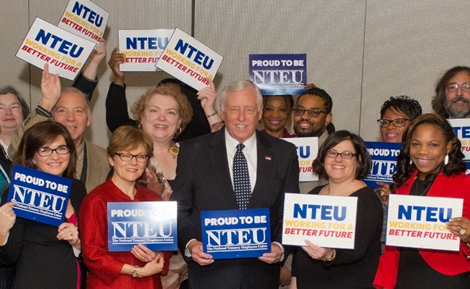 The second most powerful member of the House of Representatives is going to bat for you every single day. Majority Leader Steny Hoyer has been a crucial ally to NTEU for decades, and now that he's in one of the most powerful positions on Capitol Hill, he continues to bring home huge wins for the 68,000+ federal employees who live in his Maryland district.
NTEU is proud to endorse Leader Hoyer's campaign for reelection to the U.S. House of Representatives this November. It's hard to overstate the importance of NTEU's partnership with Leader Hoyer. Throughout his career, he has fought with us to ensure that federal employees are treated with dignity and respect and that the federal government is a model employer providing competitive pay and benefits. More recently, he stood with us during the longest government shutdown in history and against the administration's unlawful executive orders that continue to threaten our union rights. And due in no small part to his leadership, federal employees received the largest pay increase in a decade this year and those who are soon to become parents can rest easy knowing that they will have paid parental leave.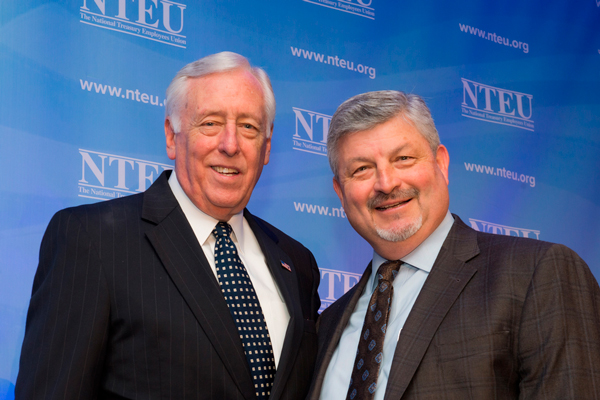 He has been a great protector and advocate of America's federal employees and retirees, and NTEU is proud to continue to support him and his reelection to the U.S. House of Representatives. During this national crisis and a global pandemic, he has continued to show his commitment to workers by leading the way on critical issues like workplace health and safety for federal employees and the American public.
---
Candidate Profiles: the Candidates for President of the United States
As we get closer to the 2020 elections this fall, NTEU will be updating this page with profiles of the candidates running for federal office – and we started with the big one, the candidates running for President of the United States. Click on the names below for more on where these candidates stand on many of the issues that impact federal employees and their families.
---
Have you checked if you are registered to vote?
NTEU wants to make sure you are registered and ready to vote in the upcoming elections. Please visit vote.org to check your voter registration status and register to vote.